TOP 10 BEST MATTRESSES OF 2019
You are in the market for a new mattress, but where do you start?   Our top 10 best mattresses of 2019 include our top picks based on overall performance.  Our goal is to make your buying experience easier by providing you with the facts about these beds along with our own experiences through our extensive review process.  So, let's get to it!
Best in Cooling Comfort
Great for all sleep positions
Designed by a doctor
All USA made
Free custom modifications
Great for all sleep positions
Patent pending Cooling Cloud technology 
Excellent pressure relief
Lifetime warranty
Great for all sleep positions
Patent pending Cooling Cloud technology 
Excellent pressure relief
Lifetime warranty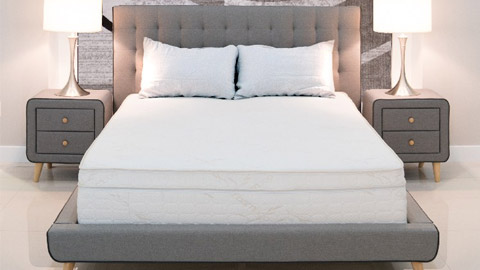 Chiropractor Designed
Great for all sleep positions
Multi-zone lumbar support
Patented Air Flow Transfer System
Multi-zone lumbar support
Great for all sleep positions
Cooling benefits
Little to no motion transfer
Multi-zone lumbar support
Modular construction
Dual adjustability
Integrated with 2 Samsung smart tablets
Doctor recommended 
Multi-zone lumbar support
365 night sleep trial
Forever warranty
Great for all sleep positions
Lifetime comfort warranty
Eco-friendly
Cooling benefits
Great price point
Cooling benefits
Little to no motion transfer 
CertiPUR-US foams
Multiple firmness options
Organic anti-microbial cotton cover
CertiPUR-US foams
Made in the USA
Which mattress type is right for you?
There are many excellent mattress types available today; the most popular being adjustable air, innerspring, hybrid and foam. While each design offers its own benefits, they also pose some unique problems. That's where we at ASL Reviews come in. We test top brands and share our experiences with you. We break down our "Best Mattress" reviews into the following categories for ease of use:
All mattresses have some form of support system, whether that be air, springs or dense foam. Air beds use trapped air to provide adjustable support, when and where you need it. A great benefit of having an airbed is the ability to independently adjust the firmness levels on each side of the bed, making it a great option for couples. Airbeds typically tend to cost a little more than other traditional mattresses, so if you are on a budget, this might not be for you. That being said, we spend a third of our life sleeping and it might be worth the investment. Click below to check out our top picks for best luxury air beds:
Foam mattresses offer some great benefits not found with its competitors.  For example, foam beds are lightweight and pliable, making them a perfect option for the increasingly popular bed-in-a-box brands. This makes them a great choice if you aren't settled down and plan to move around a lot. Additionally, they are one of the better options in regards to motion transfer and an excellent choice if you sleep with a partner who tosses and turns.  Of the major mattress types, foam beds are generally the least expensive.  Click below to check out our tops picks for foam beds 2019:
Innerspring mattresses are perhaps the most traditional design on the list.  They are durable and provide great support . They come in a variety of pricing options from value to luxury making it a great choice for any budget.  Unlike the popular foam mattresses, which are known for running hot, innerspring mattresses are known to sleep cooler. With innerspring mattresses, there is also little to no off-gassing.  Click below to check out our top picks for Best Innerspring Mattresses 2019: 
Deciding which one is right for you
Winner Best Cooling Mattress 2019
Designed by chiropractor Dr. Rick Swartzburg, Snuggle-Pedic was a clear favorite.  Designed for optimal comfort and support while maintaining proper spinal alignment, Snuggle-Pedic ticks all the right boxes.  Unlike traditional memory foam mattresses that run hot, Snuggle-Pedic features a patented air flow transfer system. This makes it one of the best cooling mattress we've tested so far!  
Winner Best Side Sleeper 2019
Puffy claims their mattress is like sleeping on a cloud and we would have to agree!  For a side sleeper, having a soft yet supportive mattress is important and the Puffy Lux is just that. This makes it a clear winner for side sleeping. If you love a bed that cradles you to sleep without giving you that "stuck in the mud" feel, the Puffy Lux should definitely be on your list of consideration.  It also features a patent-pending Cloud Cooling technology to assist in temperature balancing.
Winner Best Budget Mattress 2019
With a starting price just under $800, Nectar delivers exceptional value while remaining one of the least expensive mattresses we've tested so far.  Nectar is definitely on the softer side with a plush, contouring feel that lends itself well to side sleepers and combo sleepers.  If you are a strict stomach sleeper, this may not be the best choice for you.
Winner Best Luxury Air Bed 2019
Air-Pedic is the 2nd bed on our list designed by chiropractor Dr. Rick Swartzburg, and is our top pick for anyone looking for an adjustable air bed. This bed features 3 air chambers on either side of the bed, which eliminates mid-section sagging, prevalent in popular brands like Sleep Number.  This, along with the adjustable firmness, makes for a bed that suits all sleep positions while maintaining proper spinal alignment.
Winner Best Combo Sleeper 2019
Casper provides a multi-zone support foam, making it our top pick for combo sleepers. Casper utilizes a softer foam through the shoulder area, which greatly alleviates  pressure, where side sleepers need it most.  At the same time Casper provides a firmer support foam through the lumbar area, making it an excellent choice for stomach sleepers and back sleepers alike.
Winner Best Smart Bed 2019
The bed of the future: ReST comes fully integrated with 2 Samsung tablets and a preloaded sleep app. The app allows for 3 control options: automatic, auto position and manual. Looking for the newest addition to your smart home? Look no further. Utilizing a responsive surface sleep technology, ReST Performance monitors nearly 2,000 pressure points for real time pressure-mapping.  
Winner Best for back pain 2019
With 10 years of research and development, backed by clinical trials, Level Sleep is designed to alleviate back pain. Level uses a patented TriSupport layer to create a multi-zoned support similar to Casper.  We did find Level to be a bit on the firm side, making it a great choice if you prefer the feeling of sleeping "on" the mattress vs. "in" the mattress.
Winner Best Luxury Innerspring Mattress 2019
When it comes to Innerspring, WinkBeds takes the cake. Available in 4 different firmness options, we tested the soft model and fell in love. Standing at 16 inches, it is one of the tallest beds we have tested. With individually wrapped coils, it delivers all of the support you need for proper alignment, with the luxurious cloud-like sensation for great pressure relief.  The extra plush Euro-pillow top makes it an excellent choice for all sleep positions.
Winner Best Back Sleeper 2019
Ghostbed is a true medium to medium-firm mattress, making it an excellent choice for back sleepers, who need just a bit more support. Made from a gel-infused memory foam, Ghostbed has some great temperature regulating properties. All of this, combined with exceptional customer service, Ghostbed stands out for its affordability and great value.
Winner Best Stomach Sleeper 2019
Aviya comes in 3 firmness options: plush, luxury firm and firm. With stomach sleepers, it's all about support. Without it, you will find your hips and pelvis sinking, which will cause compression on the lower spine. Aviya combines individually wrapped coils, with a sag-resistant high density foam, creating a mattress that's not only designed for support but built to last.